Chapter President's Letter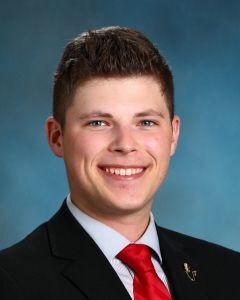 As we continue to get back to "what was before COVID", the men of Alpha Gamma Sigma continue to step up to various challenges that are presented before them. They continue to make lifelong relationships with one another, all while making a positive impact on campus.
Our rush chairmen are looking forward to this upcoming summer. They have their sights set on signing the largest rush class in AGS history. We have continued our partnership with Grindstone Media to help virtually promote the fraternity for those who may not have the opportunity to see our new house in person.
This upcoming year, we may have the potential to have the best philanthropy program in the history of our chapter. We have high aspirations for large-scale events to help donate to the new Bryan Cancer Center here in Lincoln. We continue to succeed in our smaller philanthropies, such as trash cleanup, to make a positive impact on the community.
We have high expectations moving forward academically. This last semester, we had seventeen members that were above a 3.8 semester GPA and eleven of those members had a 4.0. We will rely on those men to set a standard moving forward so that we become a top-five fraternity in academics this spring.
Our Fraternity Education Committee has taken huge strides in reformatting our membership education. They plan on developing a program that will help members all four years to help develop our men into becoming the leaders of tomorrow. We have also continued our streak of having members serve on New Student Enrollment, Nebraska Agricultural Youth Council, NHRI, Leadership mentors, and many other positions. We also continued our streak, which is the longest of any fraternity on campus, of having a member serve on the Interfraternity Council Executive Board.
One of the biggest changes for our chapter has been the change in scenery. Our Juniors and Seniors have now lived in three different chapter houses. In the fall semester, we were able to move into our state-of-the-art facility on Holdrege Street. We are truly blessed to have such a great facility that has been made possible by the help of our wonderful alumni association. Together, our active chapter and alumni members have given Alpha Gamma Sigma the opportunity to live in the nicest and most advanced house on campus. With this opportunity, we plan to use it so that we may continue to strive to be the best house on campus.
Fraternally,

Chad Niemeier
Chapter President, Γ1099