Chapter President's Letter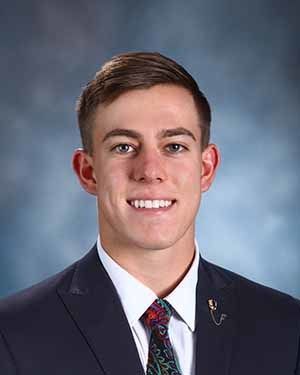 The past year has been anything but ordinary. I'm proud to say that the Men of AGS have tackled the challenges in front of us and embraced opportunities to create memories and make a positive impact on campus.
Our rush chairmen are off to a great start and are partnering with alumnus Landon Rhodes '11 and his company Grindstone Media to market our brotherhood to potential new men. This summer is vital to our future success, with plans to rush the largest class in AGS history.
We've set high goals for our philanthropy program, planning to carry out at least one virtual and one in-person event this semester. Our community service has included highway trash cleanups and volunteering at the Lincoln Children's Zoo, and historic snowfall in January gave us the opportunity to serve our neighbors by digging out vehicles all over campus and towing a Lincoln Transit bus out of a snowbank.
We have ramped up our expectations and support systems after a challenging fall semester academically. We had thirty members above a 3.5 semester GPA and are relying on those men to set the standard as we fix our sights on earning top-five among fraternities this spring.
Our Fraternity Education Committee and a multitude of alumni are revamping our member education, creating an expanded four-year program with increased professional development. Our twenty-two new men, including five spring members, have increased our intramural and student organization involvement along with the actives. We continue our streak of members serving as Interfraternity Council Executive Officers, New Student Enrollment leaders, FFA State Officers, Nebraska Agricultural Youth Council representatives, NHRI Leadership mentors, and many other positions.
It has been a unique experience living on city campus, and we will carry the relationships and reputation we've built into our new facility. Our semester goals aim to put us in the best position academically, socially, and in regard to the strength of our brotherhood. Some might say that this pandemic, house transition, and everything else couldn't have come at a more inopportune time. However, I believe that just as steel is strengthened by fire, so our members have and will continue to be strengthened and united by the challenges and opportunities that face our chapter.
Fraternally,
Bennett Perlinger
Chapter President, Γ1092